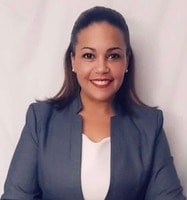 Eillen Taveras
Buyer and Seller Agent
Finding the right home for your clients, successfully negotiating and closing a real estate transaction requires an agent with persistence, dedication, patience, integrity, and sometimes a good sense of humor. I am committed to achieving your real estate goals and my passion for exceeding expectations is unrelenting. My attention to detail, communication, and negotiation skills define me.
I identify myself by my honesty, passion for my work and professionalism. My dedication to my clients is reflected in their smiles and satisfaction after I have helped them in the purchase of their dream home.
My motto is to help one family achieve "the American dream" at the same time.
---------------------------------------------------------------------------------------
Encontrar la casa adecuada para tus clientes, negociar y cerrar con éxito una transacción de bienes y raíces requiere un agente con persistencia, dedicación, paciencia, integridad y, a veces un buen sentido del humor. Me he comprometido a alcanzar sus metas inmobiliarias y mi pasión por superar las expectativas es implacable. Me define mi atención al detalle, la comunicación y habilidades de negociación.
Me identifico por mi honestidad, pasión por mi trabajo y la profesionalidad. Mi dedicación a mis clientes se refleja en su sonrisa y la satisfacción después que los haya ayudado en la compra de casa de sus sueños.
Mi lema es ayudar a una familia a la vez lograr "el sueño americano"